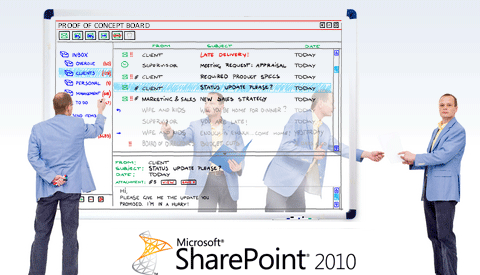 Build On
---
Sharepoint City's development service creates powerful custom enhancements and business applications to cater for your unique business needs, extending SharePoint beyond its basic 'out-of-the-box' capabilities.
We 'build on' the power of SharePoint, creating purpose-built custom extensions to make it more intuitive for specific business and user needs. We assemble composite applications that 'supercharge' your legacy applications and business data using SharePoint's flexible capabilities, and develop completely new solutions with the familiar look and feel of SharePoint and Office.
What's more, thanks to the solid platform and thousands of 'building blocks' provided by SharePoint, custom development is safe, hassle-free and more cost-effective than ever before. You may even find that replacing legacy systems with custom SharePoint applications costs less than keeping them alive for yet another year!
Contact Us
---
Phone / Fax: 020 7099 6039
To discuss your requirements directly with our consultants please Contact Us »
Client reference
---
"Sharepoint City understood the project from start, giving strong guidance and significant creative input. "Albert", our TV production carbon emissions calculator, was completed on schedule and budget. Excellent throughout!"
Richard Smith, BBC Environment
Develop Together
---
Our unique Develop Together process is designed to fast-track the development of applications, bringing out the best of the flexible, adaptable nature of the SharePoint 2010 and 2013 platforms.
Each of the required applications is built in four iterations, with Sharepoint City's consultants engaging closely with the key users throughout the process, from definition of the concept to roll-out of the completed solution to production.

Extend SharePoint beyond
'out-of-the-box'
---
We build enhancements to SharePoint's native tools to 'supercharge' your SharePoint apps with intuitive, purpose-built features that provide your users with better and faster usability and immediate business benefits:
Enhance interaction and discovery with rich, purpose-built user interfaces and SharePoint 'widgets'
Speed up common user tasks through one-click completion or drag-and-drop information entry
Put in place custom actions, workflows and business logic to automate your essential business processes, from everyday forms applications to complex decision trees and knowledge systems.
---
Create new custom applications or replace and retire legacy systems
Developing fully custom applications on the proven, reliable SharePoint platform produces faster and better results, with less risk than the traditional 'development from scratch' approach, and makes custom development more affordable than ever before.
By using the solid SharePoint platform and the 'building blocks' it provides as a starting point, following Microsoft's best practises and our own proven development patterns, Sharepoint City minimises the risks of run-away development, product bugs or compatibility issues. Our custom development process is specifically designed to make the deployment, integration and user roll-out of the new applications virtually hassle-free.
In fact, many of our customers are now finding that replacing legacy solutions with SharePoint-based applications costs less than a single year's maintenance fees and support costs for the same solutions. Other benefits include further savings through infrastructure consolidation – which in turn reduces your CO2 emissions to help your CSR strategy!
---
Bring out the power of composites and integrated applications
Underlying SharePoint 2013 is the entire Microsoft foundation of technologies and business applications including databases and business intelligence, data integration and visualisation, business process workflows and communication. These allow the creation of powerful composite applications that pull through the hard business data and processes onto the intuitive, user-friendly surface of SharePoint. Thanks to the functionality that SharePoint 2013 adds, this makes your data alive with completely new kinds of interaction and collaboration capabilities:
Create composite applications that bring together business data and SharePoint content, collaboration and communication functionality – all in one user-friendly location
Consolidate and visualise data from a wide range of sources for information-at-a-glance
Allow users to interact with business data easily through task-based grids, personal views, charts and maps
Provide users with access to your commonly used business applications and data through one common portal